Making Jigsaw Machine Laser Engraving for Craft
Product Description
With the increasing complexity of cutting and carving technology, the traditional manual processing and mechanical processing are restricted by the equipment and technology. The accuracy of the processed object is low, which to a certain extent affects the quality of the product, and even affects the economic benefits.

According to the laser's high energy density, strong operability, wide range of processing materials, smooth cutting edge, no burr, no polishing, no noise, no dust, high processing speed, high precision, less waste, high efficiency, it is the necessary and best choice for all industries.


Machine Advantages:
1. Acrylic transparent cover can not only isolate the internal and external environment, but also facilitate people to observe the processing process and the working state of the machine in time;
2. Adopt imported high-precision guide rail system to ensure processing accuracy and service life;
3. The movable universal wheel makes the movement of the machine more convenient;
4. Laser tube adopts industry model products to ensure processing accuracy and durability;
5. Electric lifting platform + automatic focusing device + red light indication;
6. The optical lens adopts high-strength gold-plated silicon and aspheric focusing lens, so the lens is resistant to scrubbing and high temperature and does not need to be replaced frequently, which reduces the recovery cost. The focusing diameter of the aspheric lens is small and the cutting effect is good;
7. Adopt DSP control system, run smoothly, modularization, uniform design, uniform installation, strong anti-interference ability, easy to detect and replace parts;
8. The laser tube adopts the forced water-cooled valve rod. Water pump or chiller can control temperature automatically;
9. Applicable to Al, CDR, BMP, DST, DSB, PXF ETO and other modes.
The advantage of laser processing is that various patterns can be carved and hollowed out on the surface of various materials quickly. Because laser processing is a non-contact processing method, it will not produce any external deformation on the materials.
The laser engraving machine has many advantages, such as high precision, no burr, and can process any shape;

Application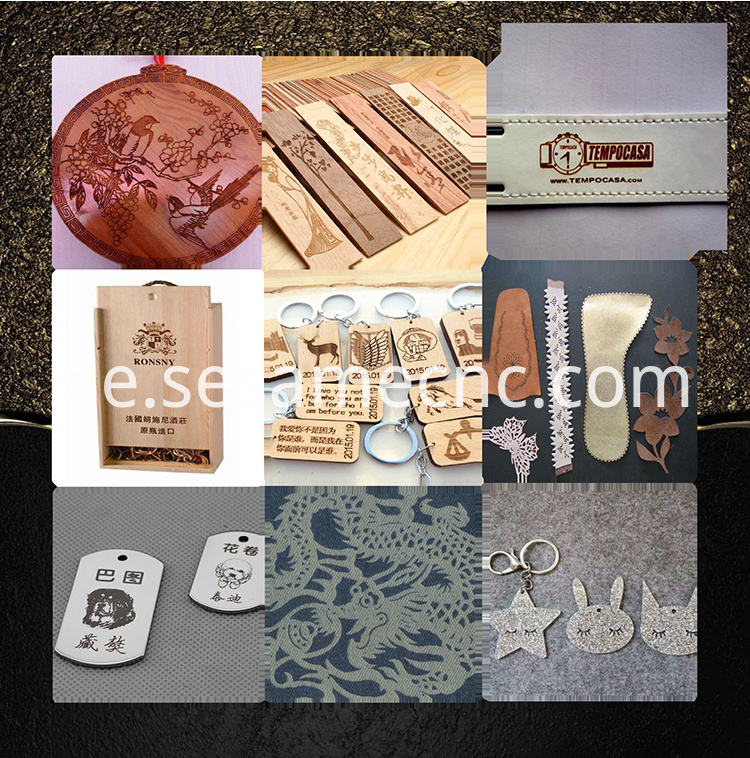 Application Industry:
clothing and accessories, leather products, plush toys, advertising and decoration, craft gifts, paper products, bamboo and wood products, electronic appliances, lighting, packaging and plate making, daily necessities model, shadow carving, packaging lining and printing, food, wood model, jigsaw, electrical plastic products, furniture, mica, insulation materials and other industries.

Applicable materials:
all kinds of cloth, leather, plexiglass, cardboard plastic PET / PVC / PC / ABS, mica board, felt cloth, sponge, foam, pearl cotton, EVA, fiber material, silica gel material, composite material, epoxy resin, paper, wood bamboo, rubber, resin, ceramics, granite, acrylic, wood, cloth, wool, and other non-metallic materials.

Industry uses:
clothing stick cloth embroidery, weaving Mark, trademark cutting, clothing accessories carving, punching, edge cutting; leather punching, lofting, cutting materials; plexiglass, plastic, PVC, paper, wood and bamboo cutting; wood and bamboo, ceramics, granite, shadow carving industry sculpture.
Detailed Images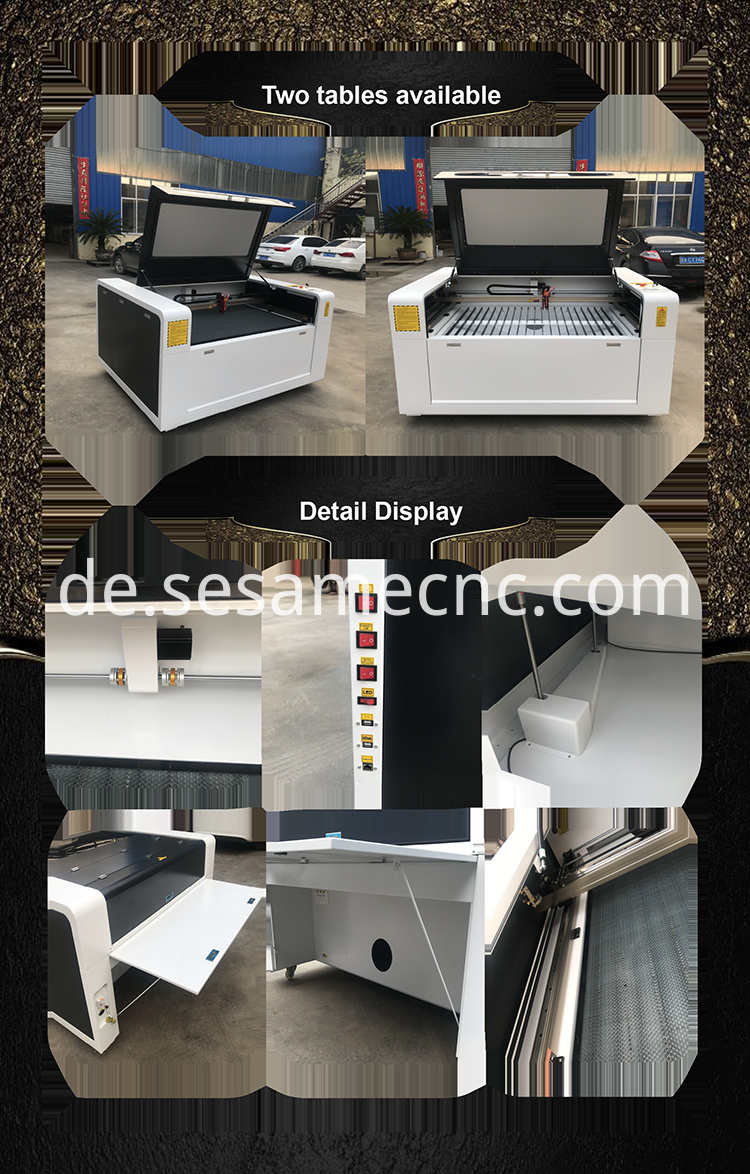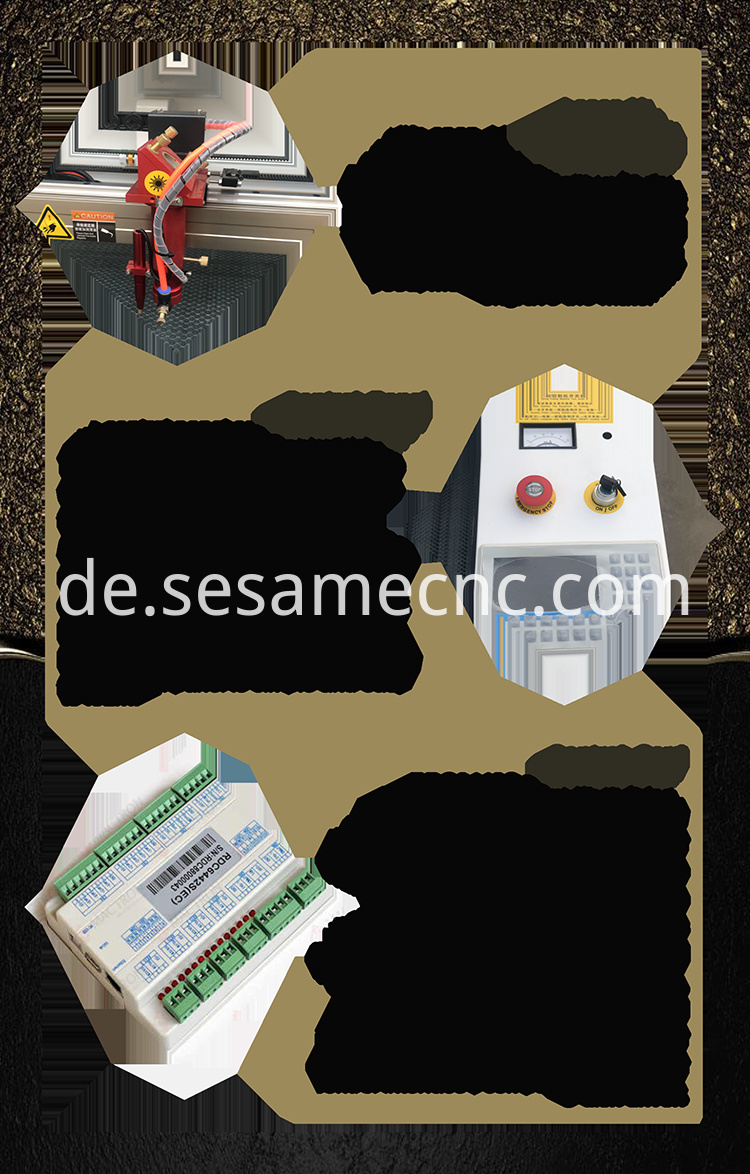 | | |
| --- | --- |
| Model | 1390 Laser engraving machine |
| Working area | 1300*900mm (Can tailor-made for you) |
| Laser power | Reci 80w/100w/130w/150w |
| Laser tube type | Sealed CO2 glass laser tube |
| laser tube cooling type | S&A Industrial Water Chiller |
| Cutting speed | 0-24000mm/min |
| Repositioning accuracy | <0.01mm |
| Working voltage | AC110v/220v 50Hz/60Hz |
| Consuming power | <1000w |
| Laser control system | RDC6442S control system |
| Driving system | YAKO stepper motor YKD3505M-DK-B1 and driver YK368-826G |
| Working table | Blade table ( Alternative Honeycomb table ) |
| Linear guide | ABBA square rail (sub-brand of SKF) |
| Lens and mirror | American Mirrors |
| Graphic format supported | DXF,AI,PLT,DST,DSB,BMP,JPG,GIF,PNG,MNG |
| Software supported | CorelDraw, Photoshop, AutoCAD |
| Minimum letter size | English:1mm x1mm; Chinese: 2mm x 2mm |
| Running environment | Temperature: 0°c-45°c; humidity: 5%-95% |
| Optional parts | UP/Down working table, Rotary, Auto focus |
| auxiliary device | Air Pump, Exhaust Fan, Water Chiller, Tool box |
| cover | All acrylic transparent cover |
| Another features | Red light point, Water protection switch, Open cover protection, Galvanized sheet machine frame |
Certificate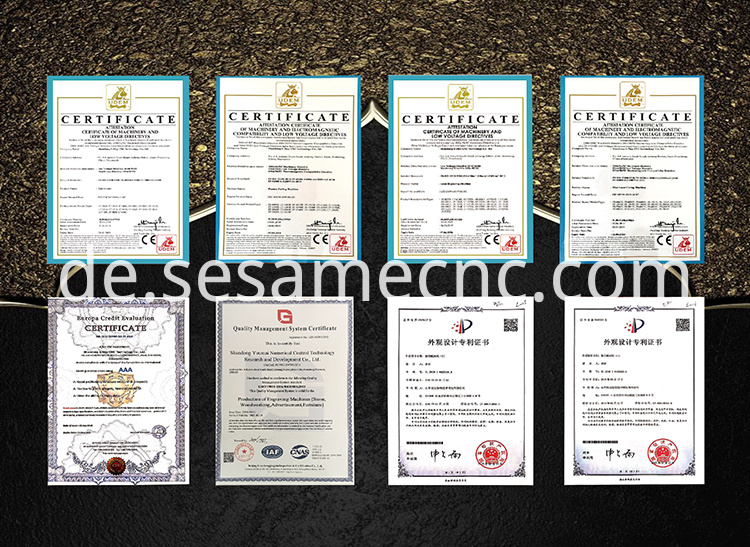 Our Company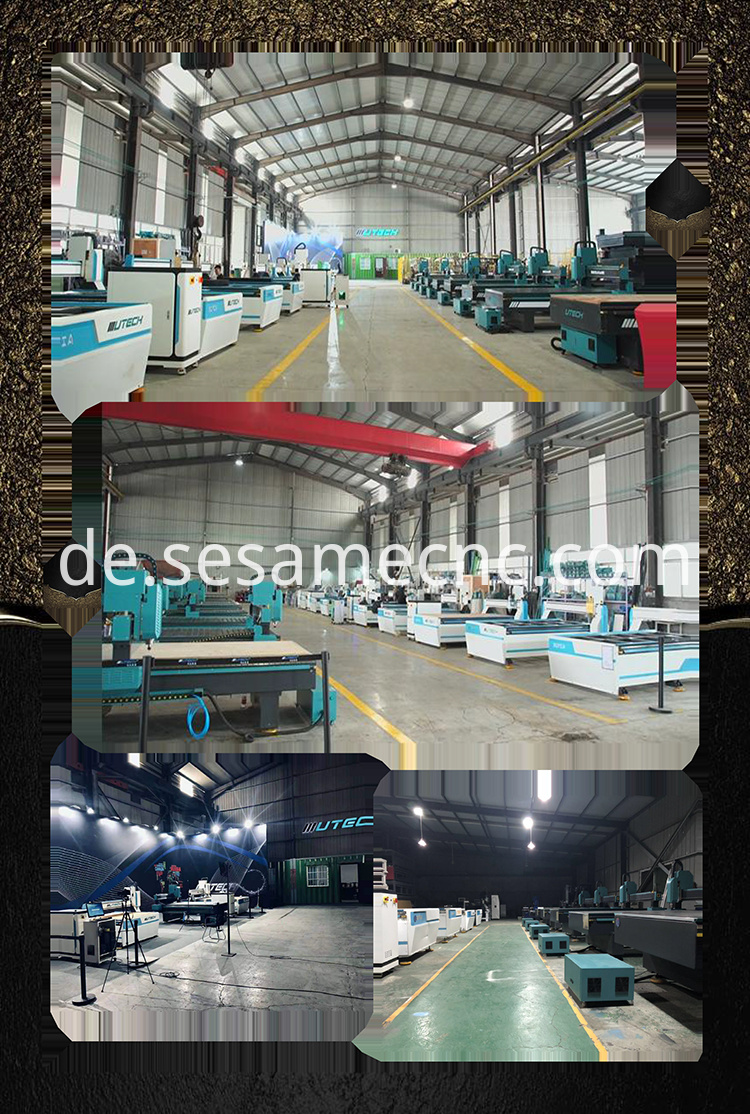 Shandong U-MAY CNC Technology CO., LTD. is located in Jinan, the spring city of China. The brand name on the market is UTECH, which is a new brand launched by the company since its construction in 2014. The main products of the company are CNC machine tools, laser engraving machines, plasma engraving machines, fiber laser marking machines, etc. Regarding products, we have been adhering to the business philosophy of "Smart Solution, Better Tomorrow", aiming to provide the CNC engraving machines with high quality and excellent guarantee for the whole world.

In recent years, our company has followed the development of The Times and entered the transition period. By 2019, our carving machines are more actively sold to North America, the Middle East, Western Europe, southeast Asia, Africa, South America and other regions, and have a stable dealer agency in some regions.
Exhibition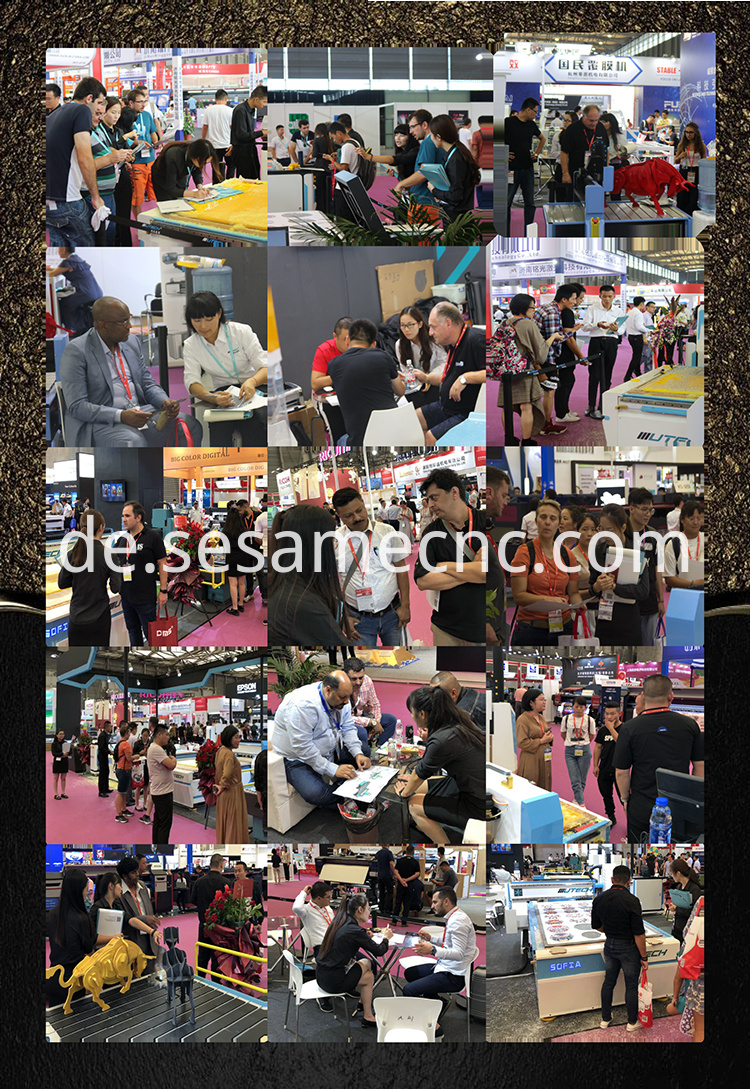 Our Team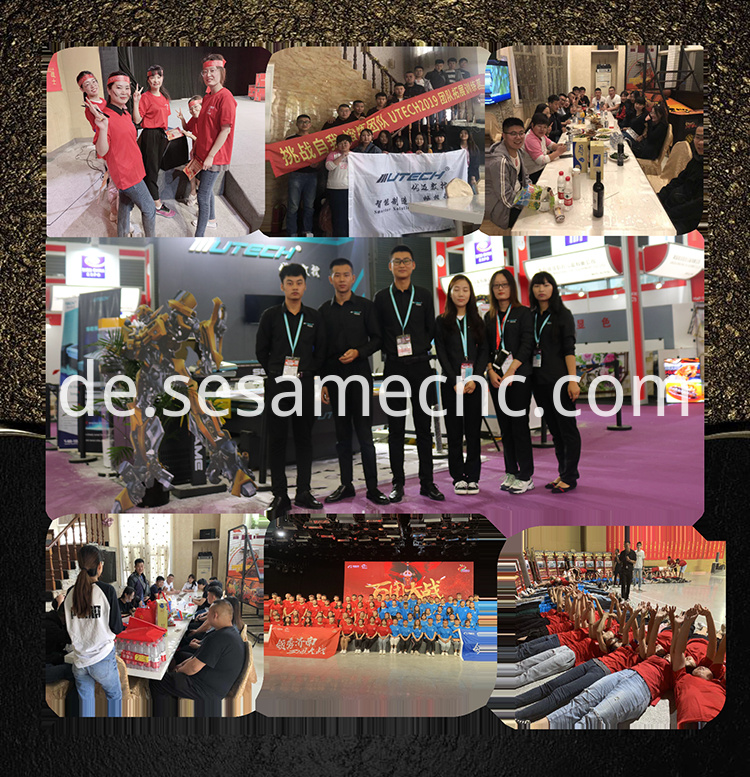 Customer Feedback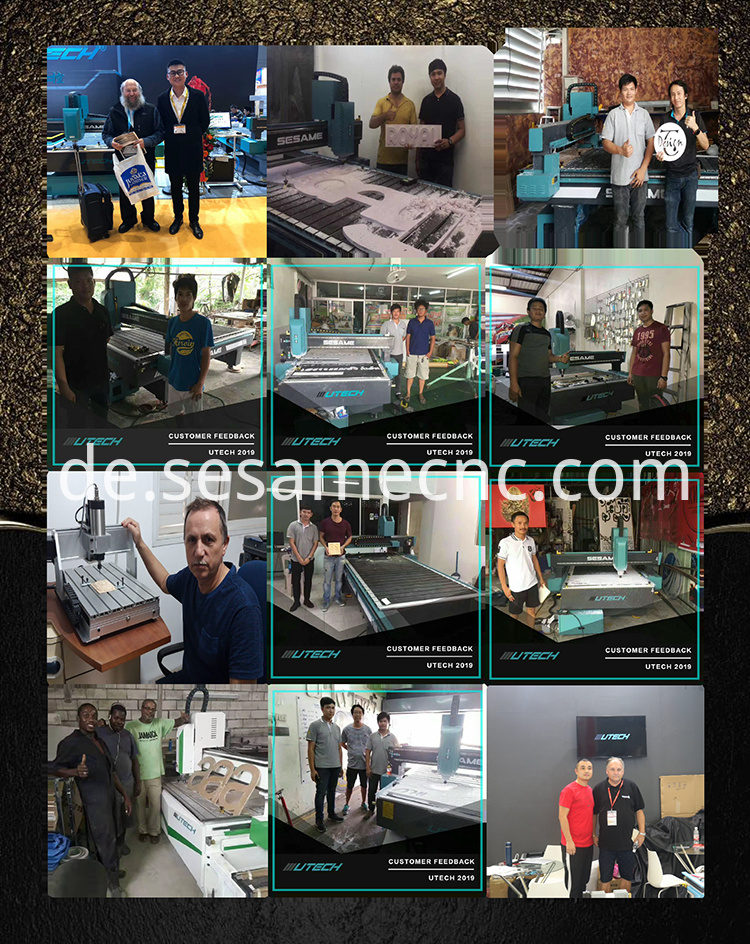 Product Package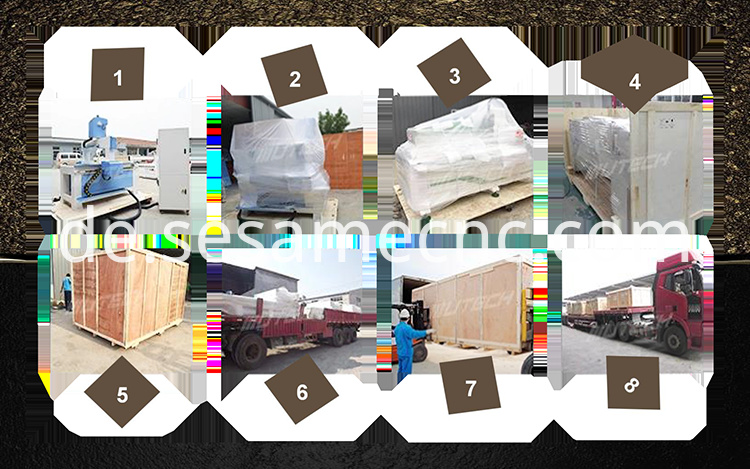 The inner layer is wrapped with plastic film to protect the machine from friction damage caused by collision during transportation. The outer layer is a standard wooden box to stabilize the fuselage.
Our Service
Pre-sales Service
Ⅰ Inquiry and consulting support. 10 working days to produce the machine, meanwhile, we will report the production process in time.
Ⅱ Sample testing support.
Ⅲ View our Factory

After-sales Service
Ⅰ Training how to install the machine, training how to use the machine by internet. 24 hours technical support by email, calling , if u have any problems, we will within 12 hours to solve it.
Ⅱ Some machine parts ( quality problems ) can be free charge to replace it within warranty.
FAQ
1. How to guarantee the product to me? Is the purchase procedure complicated?
After you purchase Laser Engraving and Cutting Machine, we will keep in touch with you. The specific delivery process is in accordance with international trade practices, you can rest assured. If there is any doubt on some matters, the two sides can negotiate and deal with it.

2. What should I do if the product is found defective upon receipt of the goods?
Under normal circumstances, we will make strict inspection and test before the product leaves the factory. Video inspection is allowed if conditions permit. If you have time, you can come to our factory for on-site inspection. We will mail the missing parts and components in time.

3. How is the product packaged?
Product packaging is divided into three layers. The outer box is made of wood craft box.In the middle, the machine is covered with foam to protect it from vibration. The inner layer is waterproof and moisture-proof with thickened plastic bags.

4. Why can you trust us?
Our products are of high quality. We import important parts and components from Taiwan, Japan, etc., and have a series of relevant certificates as the basic guarantee. The whole process of assembly and processing has a full range of monitoring.In addition, the after-sales treatment is quite rigorous, and we will have technical staff to answer questions online in time.

5. What kind of factory is it?
Our company belongs to typical industrial and trading a shape, a statement that it is very
important, because the factory can control the machine quality, and trade departments can correct fully introduce to the buyer, integrating two department, not only guarantee the product quality, and can do real-time docking factories and sales staff, saving problem to deal with the wait time for you.
Related Products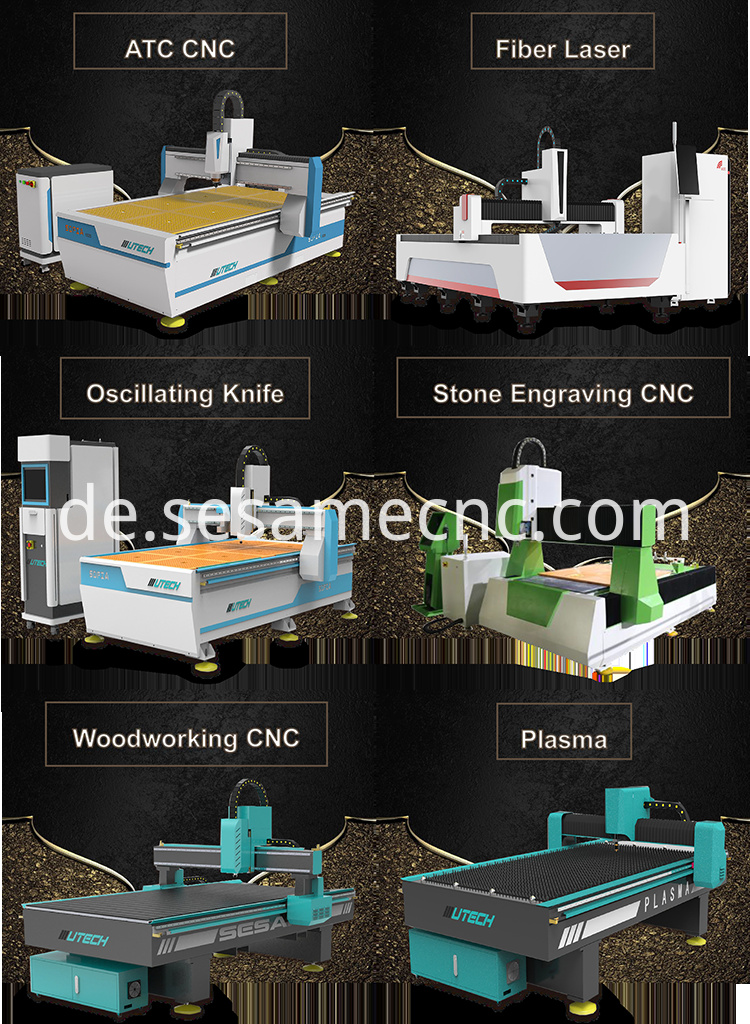 Our company is committed to the R & D, manufacturing and sales of CNC Router. The products under the UTECH brand include ATC Cnc Router, Woodworking Cnc Router, Mini Desktop Cnc Router, Oscillating Knife Cutter with CCD, Professional Stone Cnc Router, Plasma Cutting Machine, Fiber Laser Cutting Machine, Advertising Cnc Router and other machines.